One
day tasks are tasks that take -in theory- up to one day to complete by one person, or by a pair of people in the case of pair programming. Creating tasks of one day maximum size gives two benefits to the team. The first is that under normal conditions it creates visible daily flow. Meaning that if nothing goes wrong, one task will be finished (on average) per team member per day. So if a team has
8 members, theoretically they should finish 8 tasks per day. But in Agile teams, people work in pairs a lot, either pair programming, or a coder/analyst-tester pair, so in practice it should be around half of that that gets finished. And effectively, my experience is that in healthy 8-member teams, you should expect to see around 4 DONE tags per day.
Without one day tasks, you will end up with a story with only one or two Post-its, where nothing ever moves and during the daily Scrum a team member says "I'm still working on this… yep… still some work to generic cialis fast shipping do, still working on it."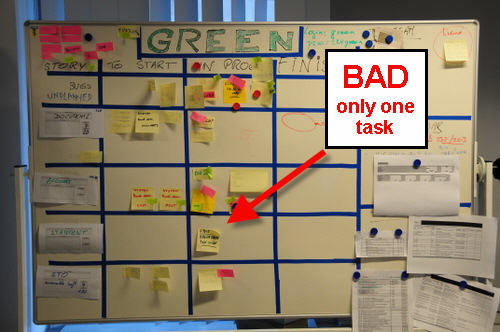 The other advantage of having one-day tasks is that it is great way to see if the team has really analyzed the story or not. Sprint planning blues? Having one day tasks forces the team to think about what they really have to do to finish that story, to a good level of granularity that is later on easy to follow up. The big effort is not in writing the Post-its, it's in thinking what has to be
done in those 1-day chunks.