"Less is more". You heard this before, right?
This applies particularly to visual management. It is very easy to generate noise by creating visual elements that are not strictly necessary. When designing our information radiators, we should always be careful not to create waste. And any visual element that doesn't add value is waste.
Of course, sometimes it's not that easy to figure it out. For example: suppose you run out of yellow Post-it's, and you see some green Post-it's lying around. Should you use them, or is this waste?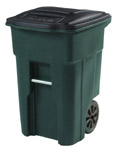 By using another color, you are creating "something". There used to be one color, now there are two. People will look at the board and wonder: "What does green stand for? What's the difference between green and yellow?". And there is none, you were simply out of yellow. So in this situation, using green is waste. You are also killing off your possibilities of giving green a specific meaning in the future, which you might will need.
But on to status tags and the three columns, the main topic of this post. It's time to design your taskboard, and you have to decide the most basic of things: how many colums do I make, and what do I call them?
If you are doing Scrum, and you agreed with One Day Tasks, you will probably be tracking the flow of tasks (not stories) across your board.
What's the simplest solution that will work?
A unit of work can have three basic states: "Not Started", "In Progress", and "Finished". Most taskboards that have more than three columns are breaking up "In Progress" into intermediate, sequential phases. Typical example: "To Validate".
There are many reasons why I would try to avoid using additional columns. It promotes specialization and local optimization. It creates two processes and a buffer where there could be a cell and single piece flow. It's waterfallish.
But the most important reason -from the visual management perspective- is that it creates extra visual elements (more columns). It also uses more taskboard real estate, which can be scarce. All this is waste.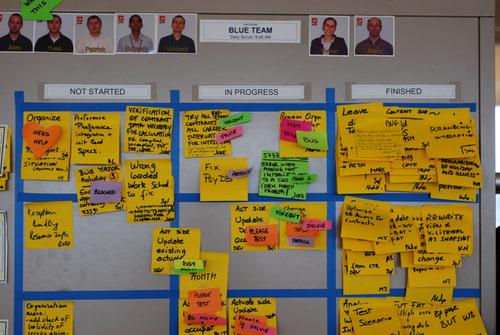 A good way to eliminate the need for extra columns is to use status tags.  For example, instead of adding a "To Validate" column, we can solve the same problem with a PLEASE TEST status tag that you stick on the task. Practically any sub-state of "In Progress" can be represented by these status tags; which are smaller, less intrusive and more flexible visual elements than columns. They are also color-coded which makes them even more powerful from the visual perspective.
So unless you're into Kanban and you really know what you're doing, I highly recommend you stick to the basic 3 columns. (And we'll discuss Kanban another day, because I think status tags and the 3 columns might also be applicable there. For example, you can limit work in progress by limiting the number of available status tags.)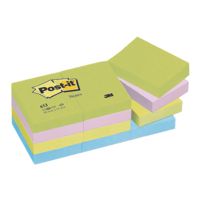 The Post-it's I use for status tags are product number 653, 51 x 38 mm in size. I use two different color sets, that gives you around 6 total usable colors (there is some overlap between sets). I also put a very small piece of Scotch Magic tape on the top, because they are not Super Sticky.
The status tags I use will be discussed individually in separate posts.