The purpose of nametags is to be able to quickly and easily see who's working on what. I love nametags. I haven't been able to come up with a simpler, more practical and more flexible way of achieving this level of transparency and visualization.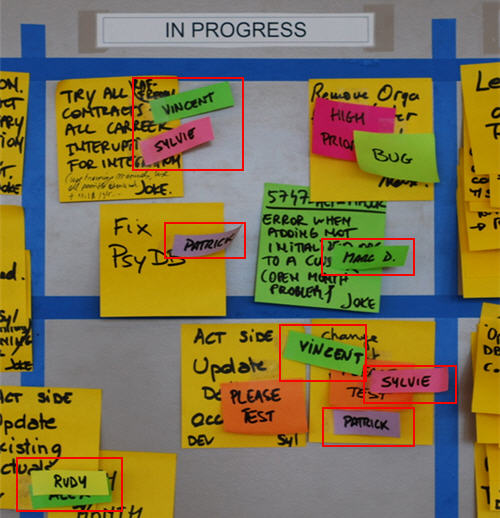 I like nametags because:
Nametags are extremely self-explanatory.
Nametags are very readable if written nicely.
Nametags are small and unintrusive, but highly visible at the same time.
Nametags can be of different colors which adds some clarity without creating visual pollution.
Nametags are cheap and can be made in 10 seconds. And they last practically forever.
Nametags are flexible. Placing one is a snap. You can easily remove them. You can put one on top of another. You can bunch them together. They can overlap, hang out, or on the side of task and status Post-it's.
Usability is very important when designing your visual elements and processes. It is important to distinguish between nice and usable. Both are good, but usable is more important. Let's examine a couple of other ideas for achieving the same goal, and see how they fare against nametags.
Idea 1: Scribble the name or initial of whoever is working on the task, on the task itself.
This is the "default" method that many teams use. I don't like this idea at all. It's neither nice nor usable. It looks bad, is not very readable, and in practice it is never maintained. What happens if you get blocked? Do you cross your name out? And what if another person starts working on the task, with or without you? Do you add his name? What do you do with your name? And what do you write, your full name or your initials? Initials are not very readable.

Idea 2: Small round magnets that have a picture of each team member (this also applies to magnets with initials, or any other physical artifact that represents a team member)
This is a typically nice idea. It probably looks great and it's kind of  funny. You would see people's head all over the board. Wacko! I like this idea, and one day I will try it out. Although I suspect that looking at a picture of someone's head is not as simple as reading a name. (You still have the pictures of team members on the board in case you want to see who the person is. But I haven't talked about that yet). Obviously team members know who everyone is, but for people outside of the team, this is not the case. So using pictures to indicate who is working on what might actually makes the board less readable to people outside the team. Gotta be careful with that. And if you are using initials or color coded magnets or little cute pokémons, it's even less readable. Too many mental connections to make to see who's doing what.
But the main reason I haven't tried these picture-magnets is practical. It takes time and money to build little magnets with team member pictures on them. And how many do you make? What's the maximum number of tasks people will be working on in parallel? You would be surprised. No matter how much you encourage people to not parallelize, all kind of stuff happens in reality, and you need to have a flexible process or people will not follow it. People start stuff and get blocked, or have to wait, or the task needs to be worked on by two people, or suddenly you realize three different tasks defined during sprint planning are actually the same and should be done as one so you check them out at the same time.  Magnets, magnets, magnets. You're probably not going to have enough.
Materials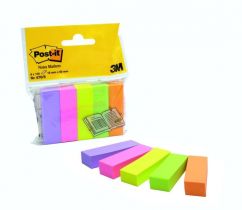 How to build the nametags:  these are actually Post-It "Notes Markers" (product code 670/5) with a little bit of Magic Scotch tape at the end (because they're not Super Sticky – just like status tags). They cost next to nothing and you get 100 of each color. They are 15 x 50 mm.
You can also cut nametags yourself out of colored paper, but why would anyone go through the trouble. I would only do that in countries where you cannot find these post-its.